Natural Wonders
Some areas are secluded and getting there is a little more difficult because of road condition. It has been gradually improved as new roads are built. Once you get to the places, you will feel you are glad you did.
♦ Yeak Lom Lake
♦ Phnom Kulen
♦ Tonle Sap
♦ Mekong River
♦ Water Falls
Yeak Lom Lake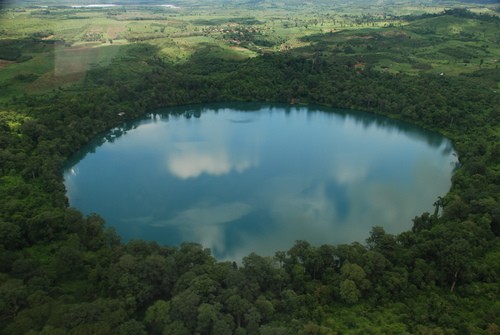 Located in Ratanakiri province, Yeak Lom lake is by far the most interesting place which drawn thousands of foreign visitors each year. Yeak Lom is a volcanic lake in the middle of a beautiful landscape of mountainous forests in Ratanakiri province of northeastern Cambodia. Located approximately 3 miles (4.8 kilometers) from the provincial capital, Banlung, the beautiful lake occupies a 700,000-year-old volcanic crater. Due to the lake's tremendous depth, 50m deep, its water is exceptionally clean and clear and is perfect for swimming in a hot summer day. The lake is almost perfectly round circle which measures approximately 800m in diameter. Large trees and rich, lush rain forest surround the lake are home to many exotic birds, parrots an other rare species. The lakeside docks are ideal places to relax with your family and friends.
Until recently, Yeak Laom lake has been inhabited mostly by Tampuen, one of the eight ethnic minority tribes in Ratanakiri. Their commune consists of five Tampuen villages totalling about 1500 people. The villages, Lapoe, Lon and Sil are adjacent to the road to Yeak Laom Lake. Chree village is located west of the lake, next to Banlung. Now, much of the land of Yeak Laom commune has become owned and occupied by people coming from other areas of Cambodia. The Tampuen people have retreated to the far corners of their traditional domain. There are many popular myths and legends that describe the origin of this volcanic lake in Cambodia. The ethnic minority groups of Ratanakiri, attaches religious beliefs with the Yeak Laom Volcanic Lake in Cambodia and the nearby locality. In particular, the Tampuens, are deeply animistic and believe that spirits who live in big rocks, streams, lakes jungles and forests surround them.
Here a few more pictures of Yeak Lom Lake. Enjoy.
Phnom Kulen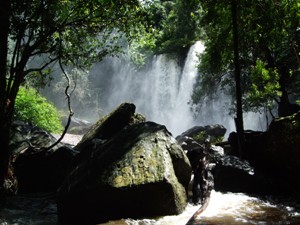 Phnom Kulen is a National park in Cambodia. It is literally translated as "Mountain of Lychees". It is located in the Phnom Kulen mountain massif in Siem Reap Province. During Angkorian era the relief was known as Mahendraparvata (the mountain of Great Indra) and was the place where Jayavarman II had himself declared chakravartin (King of Kings), an act which is considered the foundation of Khmer Empire. Rather than a hill range, Phnom Kulen is an isolated chain of small mountain plateaux of moderate height lying south of the Dangrek Mountains, stretching for about 40 km in a WNW - ESE direction, and is located some 48 km north of Siem Reap. Its highest point is 487 m and its height is quite regular, averaging 400 m all along the range. Geologically, Phnom Kulen is formed of sandstone. It was important as a quarry in Angkorian times, the major quarries being located in the southeastern angle of the massif. There is a sacred hilltop site on top of the range. Phnom Kulen is considered a holy mountain in Cambodia, of special religious significance to Hindus and Buddhists who come to the mountain in pilgrimage. It also has a major symbolic importance for Cambodians as the birthplace of the ancient Khmer Empire, for it was at Phnom Kulen that King Jayavarma II proclaimed independence from Java in 802 A.D
Locals often make a pilgrimage to pray at this holy site. There is an interesting active pagoda with a large reclining Buddha, carved at a top of a gigantic groundup rock. A sanctuary was built around the upper part of the rock, about 10m high, The architectural design is very distinctive as it makes the Buddha statue appears as if he is laying down sideway facing pilgrims who walk up there on the stairway for a quick prayer. To many visitors, it is a starting point of their visit. Among many other artifacts surrounding the area, there are two gigantic rocks nearby that locals believe a resemblance of a legendary story Sampeuv and Sampan who betrayed and fought each other resulted in their ships sunk in this area. There are pathways from pagoda to some splendid waterfalls and picnic areas. There is a pathway from the pagoda, through local villages, to the a breathtaking view of a water fall. Visitor can say at the upper level of the fall or go down via a wooden stairway to the lower part of the falls.
Here a few more pictures of Phnom Kulen. Enjoy.
Tonle Sap (Greate Lake)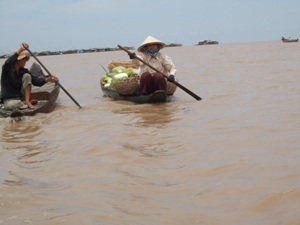 Cambodia is home to the largest lake in Southeast Asia, the Tonle Sap, which connects with the Mekong River in Phnom Penh. The flow of water into the Tonle Sap is seasonal. In September through October, the flow of the Mekong River, fed by monsoon rains, increases to a point where its outlets through the delta cannot handle the enormous volume of water causing water to push northward up through Tonle Sap River into the Lake. Tonle Sap enlarges itself 9 times its normal size at the peak of flooding. During the dry season, Tonle Sap River reverses its flow back into the Mekong River. As a result of this, the Tonle Sap Lake is a great resource for freshwater fish. It is actually one of the richest sources in the world. The Tonle Sap Lake is home to hundreds of waterbird, a dozen of mammals, several dozen of reptiles, and a number of invertebrates. Nearly 200 plant species form diverse flooded vegetation such as floating herbs, grasses, shrub, and flooded forest. Many globally
significant species including large waterbirds, turtles, snakes, mammals are found in the Tonle Sap Lake.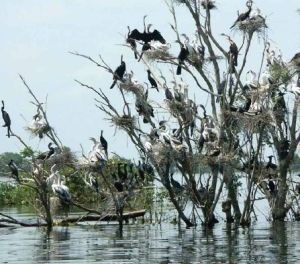 Tonle Sap Lake is home to many floating villagers. Chong Khnies is probably the most accessible village. It is about 15 km south of Siem Reap town. Boat tours are available, departing from the Chong Khneas boat docks all day long. Kampong Luong om the southern shore is the next accessible floating village. It is about 5 Km from Krakor, a small town located on National Route 5, 95 Km from Phnom Penh. People live, work, fish, and shop at the floating village.
An aquatic habitat attracts thousands of birds and fisheating waterfowls who flock to the wetland before the rain begin in June. The bird sanctuary at the Prek Tuol is the best place among the three Biosphere core areas of Tonle Sap Lake for astute birdwatchers to enjoy. It is considered "the single most important breeding ground in Southeast Asia". Covering an area of 31,282 hectares at the northwest part, Prek Tuol plays host to species including Greater and Lesser Adjuncts, Black-headed Ibis, Painted Stork, Milky Stork, Spotbilled Pelican, Grey-Headed Fish Eagle and many more. Traveling to these astounding bird watching areas remains difficult during dry season. However, it is the best time of the year because, as water recedes, the number of birds increases and flocks of migratory birds congregate at Prek Tuol.
Here a few more pictures of Tonle Sap. Enjoy.
Mekong River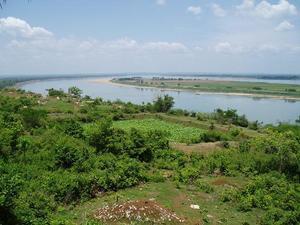 Mekong River is the tenth largest river in the world and is the longest river in Southeast Asia. Beginning with its headwaters on the Tibetan Plateau of China, the Mekong River passes about 4,200 km through Yunnan province of China, Myanmar, Thailand, Laos, Cambodia and ends in South Vietnam. It has a drainage basin covering an area of 795,000 km2. Mekong River is the most important river in Cambodia. It serves as one of important mean of transportation as it is navigable through the country. In Cambodia, it flows southward from Cambodia-Laos border in the north to Mekong delta region in the South. At Phnom Penh four major water courses meet at a point called the Chattomukh (Four Faces). The Mekong River flows in from the northeast and the Tonle Sap River flows in from the northwest. They divide into two parallel channels, the Mekong River and the Basak River. They flow independently through the delta areas of Cambodia and Vietnam to the South China Sea.
Approximately nine-tenths of Cambodia (154,730 sq.km) lie within the lower Mekong basin. The mainstream habitats range from sandy-gravel bars to deep pools up to loom deep and several kilometres long, interspersed with rocky rapids. in several places between the Lao border and Phnom Penh, the river divides into two or more channels, creating large islands and extensive sand banks. The Mekong flows through Phnom Penh where it divides to form the Mekong and the Bassac. Tonle Sap River also connects the Mekong at Phnom Penh to form a four-face river locally known as Tonle Chaktokmuk.
Watter Falls
Bou Sra Waterfall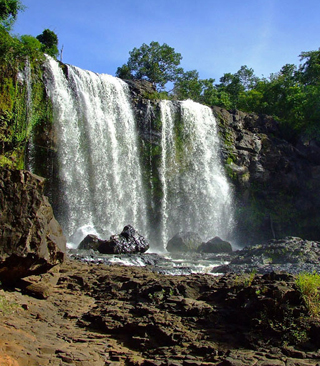 Busra waterfall is located in Pich Chenda district about 43 kilometers northeast of Mondulkiri provincial town, Sen Monorom. Busra is considered by many to be the most beautiful waterfall in Mondulkiri. The waterfall is divided into three stages:

♣ First Stage: The waterfall fall is 8 to 12 meters high and 15 meters wide in rainy season and 10 to 15 meters wide in dry season.
♣ Second Stage: The waterfall fall is 15 to 20 meters high and 20 meters wide in rainy season and 18 to 25 meters high and 13 meters wide in dry season. The second stage is 150 meters from the first stage.
♣ Third Stage: The speed of waterfall is faster than the second stage. This stage cannot be reached because it is in the thick forest. There are no marked paths and dangerous wildlife inhabits the area.
The double-drop waterfall is very popular with the locals who use it as a bathing and picnic spot. Its top level is around 10m in height, and the lower level drops down 25m to the gorge. It is in a scenic and pristine setting and offers great photo ops. Nearby is the ethnic Phnorng village called Pichchenda which has a small guesthouse.
Kbal Chhay Waterfalls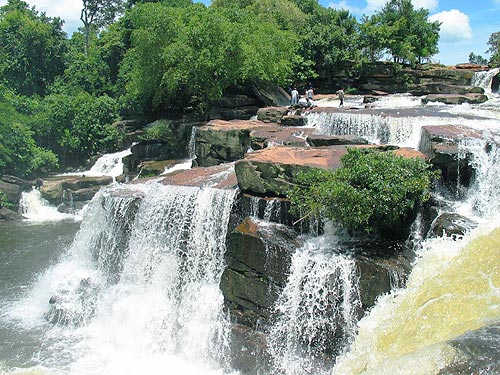 Kbal Chhay waterfall is located in Khan Prey Nup, about 16 kilometers north of the downtown Sihanoukville. These falls can be best viewed during the wet season in Sihanoukville. Kbal Chhay was discovered in 1960. Three years later, it was developed into a reservoir to supply clean water to the city of Sihanoukville. The reservoir construction, however, was interrupted due to civil war, and the site became a hide-out for the Khmer Rouge. In 1997, Kbal Chhay was marked for development, and a year later Kok An Company was awarded a contract to construct a road and develop the site for tourism.
Sen Monorum Waterfall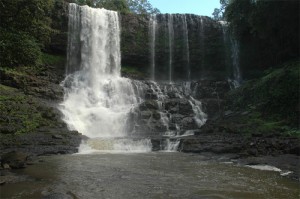 Sen Monorum Waterfall is located at Sen Monorum District in fivekilometer distance from the provincial town by red soil trail, Along either sides of the trail, there are industrial plantations like rubber, coffee and cashew as well. The local people usually meet each other at Sen Monorum waterfall during the holidays and national festivals because it closed to the provincial town. Sen Monorum waterfall has three stages:

- First stage: The waterfall has slow speed, one-meter height and 2-4 meter diameter.
- Second stage: During the rainy season, the waterfall has strong speed, 6-7 meter height and 8-meter diameter. During the dry season, the waterfall has 7-9 meter height and 4-5 meter diameter. At the waterfall, there is a large space of resting and enjoying.
- Third stage: Locates at one- kilometer distance from the second stage. The waterfall has 1.5-meter height only.Getting to Sen Monorom is difficult, adding to its off-thebeaten-path allure. From Phnom Penh, it takes about 10 hours.
Cha Ong Waterfall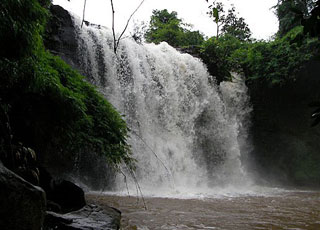 Cha Ong waterfall is in the forest in Cha Ong village, O'Chum commune, about 2 kilometers west of Ban Loung provincial town. It was given its name by the Kreung hill tribe living nearby. The waterfall gets its water from Phnom Eysei Patamak or Phnom Svay near Ban Loung provincial town. From its upper level, the water flows from a small canal before dropping 25 meters to a lower level. A mountain slop leads visitors to the bottom of the waterfall, where they can sit inside a cave and enjoy the view.
Here a few more pictures of Water Falls. Enjoy.