Khmer Pottery
Khmer Pottery is not only an art, but it also has a contemporary usage. Its production serves Cambodian daily life. In the old days, those products are used for cooking, storing foods, carrying and storing water, as a cooking stove, flower vases and many other artistic objects.
The practice of using clay pan for cooking is still common in many remote Cambodian villages. Many Cambodians believe that cooking rice with clay pan yields better taste than using an electric rice cooker which is very common in Cambodian urban areas. More advanced Khmer Ceramic Pottery could make plates, bowls, ornaments and many other decorative items.

Kampong Chhnang is a famous province for Khmer Pottery. 'Kampong' is a Khmer word for trading port and 'Chhang' is a Khmer word for pot or pan. Most if not all potteries are made in Kampong Chhnang since the ancient time. That is how the province gets its name from. It produces pots and pans, and merchants transport them with oxcart, stacked with straw to prevent breakage,  to the trading ports along Tonle Sap great lake and Tonle Sap river. 
Khmer Pottery has visual arts resembling the ancient Khmer arts. Some of the earliest Khmer pottery remains found around the country are said to be dated to as far back as to 5,000 BC. They have been discovered around Angkor Wat region, at Pnom Kulen. Recently, over 30 types of stove oven are discovered at Cheung Ek, 17 Km south of Phnom Penh.
Many Cambodian ceramics are used in everyday life, to carry water, to cook rice and soup, and to utilize as a food bowl. Around the 10th century ceramics from other countries especially China made their way to Cambodia for trading. Many wealthy Cambodian are believed to using bronze or imported ceramics. However, there is not enough evidence that local Khmer ceramics were ever being exported to other countries.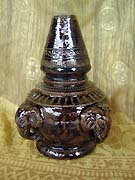 The innovation of animal-style wares in shapes of birds, elephants, rabbits and other animals appeared in the 13th century. Nowadays, objects of similar shapes are made out of wood or silver as souvenir or collection products.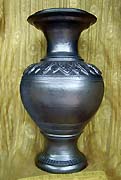 Other ceramics are also molded into a variety of different shaped wares, ranging from large storage pots and oil lamps, vases, water storage (Peang) and building material.
Old traditional procedures are still used to produce ceramics. Many of the pottery pieces are hand-turned and then fired upon an open fire with no glaze. Many NGO's have cropped up aiming to preserve Cambodia's rich heritage of ceramics and to revive and reintroduce Khmer ancestral pottery techniques and maintain the development of contemporary Khmer ceramic arts.