Tonle Sap
Table of Contents
Overview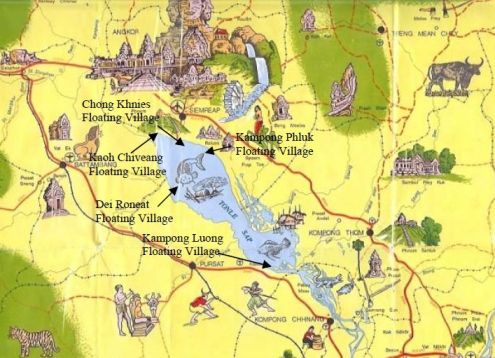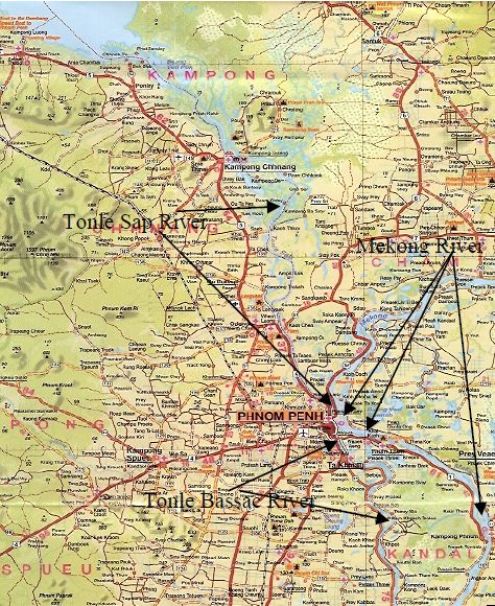 The Great Lake of Tonle Sap is the largest freshwater lake in South East Asia. It is a natural wonder of Cambodia, one of the unique geographical wonders of the world, and an ecological hot spot that was designated as a UNESCO biosphere in 1997. It is located at the central part of Cambodia and surrounded by five provinces: Kampong Chhnang, Pursat, Battambang, Siem Reap, Kampong Thom. 
The lake is linked to the Mekong River by the Tonle Sap River. From November until June the lake flows into the Mekong. However, each year during the rainy season (mid June-late October) the Mekong River is inundated with rain waters. Its lower delta becomes flooded and cannot flow into the sea quickly enough to eliminate all the excess water. This causes the Mekong River to rise enough to reverse the flow of the Tonle Sap River causing it to flow back into the lake. The lake expands from 2,500 km2 to more than 16,000 km2 (160 Km long, 100 Km wide, 9m deep) creating an enormous wetland area. This wetland area supports a tremendous amount of biodiversity including plants, reptiles, mammals, birds and other animals. Many of these are known to be rare or endangered. These wetlands are also an important breeding area for fish from the lake and Mekong River. 
Socioeconomic
 a) 1.2 million people live in the area bordered by Highways No.5 and No.6. b) The Tonle Sap yields about 230,000 tons of fish per annual (more than 50% of Cam­bodia's total) 
b) The Tonle Sap yields about 230,000 tons of fish per annual (more than 50% of Cambodia's total)
Sources: 
1. Wikipedia (http://en.wikipedia.org/wiki/Tonle_Sap) 
2. Tonle Sap Biosphere Reserve Environmental Information Database (http://www.tsbr-ed.org/ english/default.asp) 
Fisheries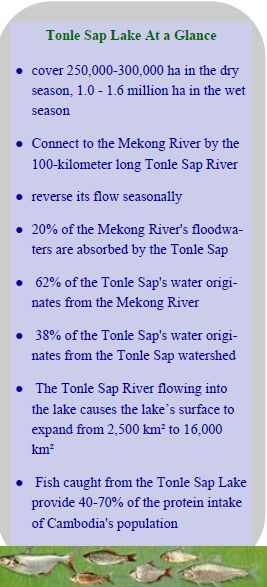 The pulsing system with the large floodplain, rich biodiversity, and high annual sediment and nutrient fluxes from Mekong makes the Tonlé Sap one of the most productive inland fisheries in the world. It yields about 230,000 tons of fish per annum (more than 50% of Cambodia's total) supports over 3 million people, and provides 60% of Cambodians' protein intake. At the end of the rainy season, the flow reverses and the fish are carried downriver. Three hundred species of freshwater fish in the lake ensure a livelihood for the many thousands of fishermen, who skillfully throw their nets from small wooden boats in centuries-old traditional ways. 
Species inhabiting the lake include carp, catfish (weighing up to 135 kilo­grams), murrel, herring, climbing perch and gourami. Other species, eels, crabs and shrimp, are also signifi­cant catches on the Lake. There are large scale com­mercial fisheries, medium scale fisheries, and family-type fisheries. While annual fish catch levels remains fairly constant, the number of key species and relative sizes of fish being caught decrease. An increase number of fishermen and fishing gears, an intense fishing, and deforestation of the surround­ing flooded area attribute to the prob­lems. In addition, upstream dams and water resource projects on the Mekong affect flooding and sedimentation pat­terns for the Tonle Sap. Regeneration of fish stocks depends on seasonal flooding and the inflow of sedimenta­tion to maintain productivity of fish spawning and feeding grounds.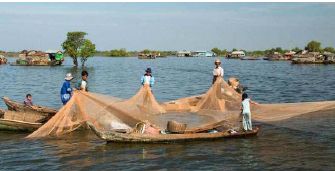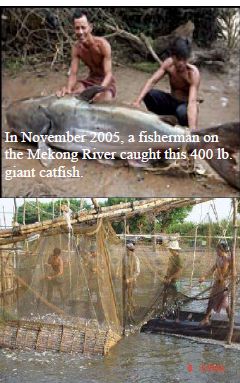 Biodiversity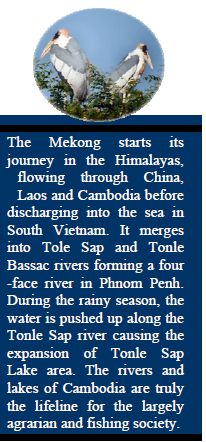 The Tonle Sap floodplain is an habitat for many species. Its ecosystem is essential to the sur­vival of many globally significant species of birds, mammals, and reptiles found around the lake during migration. 
Flora. The flooded forest of the Tonle Sap remains the largest diverse habitats in Southeast Asia. It includes shrub lands, stunted swamp forests, gallery forests, and submerged and float­ing aquatic vegetation. Waterways are filled with reeds, water lilies and lotuses. About 200 plant species have been recorded. 
Fish. The fisheries of the Tonle Sap and the Tonle Sap River account for 50 to 70% of all the freshwater fish catches in Cambodia. The fisheries productivity of the lake is known to be one of the highest in the world. 
Invertebrates. Invertebrates are an important component of the Tonle Sap's ecosystem. 57 species of benthic invertebrates and three species of bivalves, two species of prawns, and one species of crab have been recorded. These freshwater invertebrates are an impor­tant source of food for people and aquatic wildlife. 
Mammals. There are as many as 46 mammal species in the vast region of Tonle Sap Lake. Some large species such as the Asiatic elephant and tiger used to migrate from upland areas to the Tonle Sap through natural corridors. The natural habitats of these mam­mal species are hampered by deforestation for profits and to make room for agriculture. 
Birds. Tonle Sap Lake sustains the largest colonies of water birds in Indochina. Its floodplain is an important breeding area for ducks, jacanas, bustards, rails, herons and egrets, cormorants, darters, ibises, pelicans, and storks. Some 225 species of birds have been recorded since 1960s. 
Reptiles and Amphibians. Little is known about the existence and distribution of amphibians and reptiles in Cambodia. There are probably 42 species of reptiles, including one endemic water snake, seven turtles or tortoises, and one crocodile. 
Source: Tonle Sap Biosphere Reserve Environmental Information Database (http://www.tsbr-ed.org/english/default.asp) 
Bird Sancturay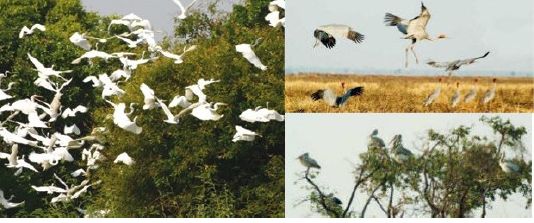 An aquatic habitat attracts thousands of birds and fish-eating waterfowls who flock to the wetland before the rain begin in June. The bird sanctuary at the Prek Tuol is the best place among the three Biosphere core areas of Tonle Sap Lake for astute birdwatchers to enjoy. It is considered "the single most im­portant breeding ground in Southeast Asia". Covering an area of 31,282 hectares at the northwest part, Prek Tuol plays host to spe­cies including Greater and Lesser Adjuncts, Black-headed Ibis, Painted Stork, Milky Stork, Spot-billed Pelican, Grey-Headed Fish Eagle and many more. Traveling to these astounding bird watching areas remains difficult during dry season. However, it is the best time of the year because, as water recedes, the number of birds increases and flocks of migratory birds congregate at Prek Tuol.