Language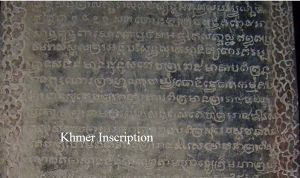 The word Khmer also refers to the language of the Cambodian people, the official language of Cambodia. Khmer has been considerably influenced by Sanskrit and Pali, through the vehicles of Hinduism and Buddhism. It is also the earliest recorded and earliest written language of the Mon-Khmer family. Many characters and words appears to be derived from Sanskrit.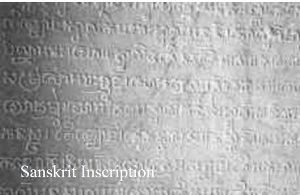 Many inscriptions discovered on the wall of many Angkor temples are both in Khmer and in Sanskrit. It is believed that early Cambodian people used Sanskrit inscriptions, an Indian sacred language,  to maintain the original form of prayers and tributes so that the values to their gods would not be diluted by any form of translation. They also inscribed in Khmer to differentiate and distinguish a Khmer identity.  Khmer differs from neighboring languages such as Thai, Lao and Vietnamese in that it is not a tonal language. All its main dialects are mutually intelligible. Battambang is a dialect spoken by people in northern Cambodia. Siem Reap dialect is similar in tone to the Battambang one and is spoken in Siem Reap, Kampong Thom provinces. Phnom Penh, the capital dialect, is spoken by people in surrounding provinces. Takeo and Svay Rieng, Prey Veng is close to the Phnom Peng, but Prey Veng has a slightly different accent. Khmer Surin is another popular dialect. Surin was a former Cambodian northern province, annexed by Thai in the 18th century. Native Khmers who live in this province still speak Khmer with Surin accent, even though Thai is the official language.  Khmer Krom or Southern Khmer, spoken by the indigenous Khmer population of the Mekong Delta, former Cambodian provinces that French had annexed to Vietnam during the French colonial period. However, the Khmer Krom still keep Khmer tradition and Khmer language. There are also highlander dialects spoken by many tribes in the mountains of western Cambodia.
Consonants
The A Sound   The OR Sound (except 3rd row, last characters)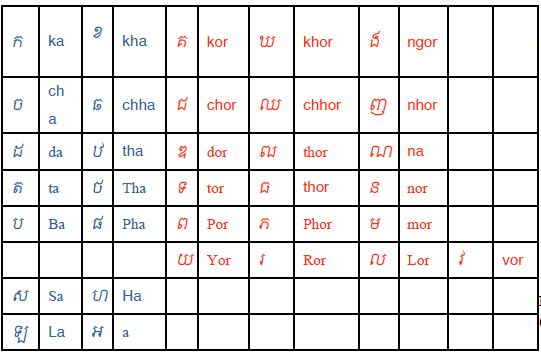 Vowel
(dotted circle under, below or inbetween the vowel is the consonant place holder.


Independent Vowels:


Consonant Subscript


Numerals:

Sample Text
knowledge is from learning. Wealth is from work.