Cultural Performances
The CCD is proud to present the following programs to business, organization, and interested individual who might be interested in sponsoring one or more components. The cost stated at each component is the amount that we will be paying to the performing group, or the estimated cost that would incur to make the component possible. Part I lists all stage performance. Part II elaborates the description and facts of the cultural components so that sponsors and the public would know what they are. You may sponsor in whole or in part of any components.
PART I:   STAGE PERFORMANCES
1. Phleng Khmer (Traditional Music)
A show case of Phleng Mohoree will be performed by Mohori Phirum group. Classical Khmer music is often divided into three categories: pin peat, the ceremonial music of the former royal courts; phleng kar, the songs of the wedding ceremony; and mohori, secular entertainment music, also originating in the royal courts, that is played by a string-based ensemble. Mohori usually accompanies a play of the same name and Khmer folk dances. It consists of roneat, khloy (duct flute), tro (two-stringed fiddle), krapoe (three-stringed floor zither), thon romonea (two-piece drum set), and chhing.
Cost: $500.00

2. Classical/Folklore Dances
Classical dance and folklore dances will be performed by Cambodian American Heritage, Inc (CAHI). Khmer classical dancers use stylized movements and gestures to tell a story much like a mime. Dancers do not speak or sing; they dance with a slight smile and are never supposed to open their mouths. Khmer classical dance can be compared to French ballet in that it requires years of practice and stretching at a young age so the limbs become very flexible.
Hand gestures in Khmer classical dance are called kbach (meaning style). These hand gestures form a sort of alphabet and represent various things from nature such as fruit, flowers, and leaves. They are used in different combinations, sometimes with accompanying foot movements, to convey different thoughts and concepts. The way in which they are presented, the position of the arm, and the position of the hand relative to the arm can also affect their meaning. Besides hand gestures are gestures which are more specific to their meaning, such as that which is used to represent laughing or flying. These other gestures are performed in different manners depending on which type of character is played.
Khmer folk dances are fast-paced. The movements and gestures are not as stylized as Khmer classical dance. Folk dancers wear clothes of the people they are portraying such as Chams, hill tribes, farmers, and peasants. Some folk dances are about love, or are folktales about animals.
Cost: $1,200.00
3. Yee Ke Mak Theung, a Cambodian 18th Century Love Story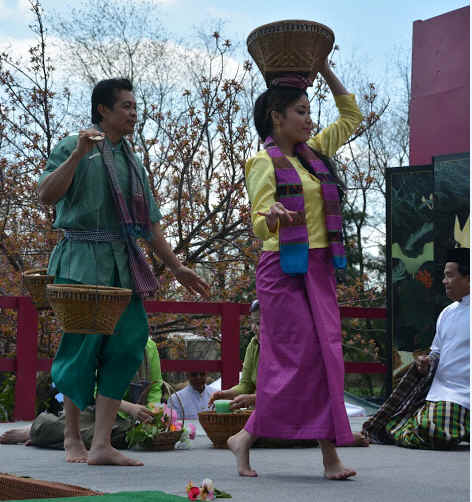 The Story of Mak Theung in a Snapshot
Mak Theung is a Cambodian 18th century love story torn apart by a cruel act of a mean prince, Pya Noy. It is a love between a peddler, Mak Theung, selling costmetic products and his younger wife, Meuy Cheuy. They lived happily in the village surrounded by many good friends. One day, Prince Pya Noy visited the market place in the rural country where Mak Theung and Meuy Cheuy sells their beauty products. Meuy Cheuy's beauty caught his eyes. He then developed a desire to have Meuy Cheuy as one of his concubines. Thinking that Meuy Cheuy had no future with a poor older man, he attempted to lure her into loving him. Meuy Cheuy refused as she was deeply in love with her husband Mak Theung. He then called for Mak Theung and attempted to buy Meuy Cheuy from him. Mak Theung refused. Realizing that he could not convince Meuy Cheuy to love him,  Pya Noy ordered his guards to kidnap her.
The kidnapping caused an uprising as people saw injustice and demanded the king to release her. The prince tried to convince his father that he and Meuy Cheuy fell in love and there was no coercive act. He also threatened to kill Meuy Cheuy if she told the king the truth.
 
Perplexing about the truth of the situation, the king ordered a chief justice to hold a people court hearing. The chief justice arranged three trips in which Mak Theung, Meuy Cheuy and prince Pya Noy took part in carrying a big drum. There was an eavesdropper hiding in the drum. In the first trip, Mak Theung and Meuy Cheuy travelled together. In the second trip, prince Pya Noy and Meuy Cheuy travelled together. In the third trip, prince Pya Noy and Mak Theung travelled together. The eavesdropper reported everything she heard to the chief justice. Based on the eavesdropper's testimonial account, the chief justice concluded that the kidnapping did take place. He reported his finding to the king. The king punished his son and returned Meuy Cheuy to her husband, Mak Theung. Tragically, Meuy Cheuy, unable to live with the guilt of her infidelity, committed suicide.
Mak Theung Performance
We selected several scenes of the Mak Theung musical drama produced by Hang Meas to be our show. These scenes are meant to be both entertaining and educational.  The fundamental values from the show are as follow:
Love has no barrier
Love cannot be bought
Smart approach to administer justice
 Sequence of Events
Our show will be tailored around the above theme:
The livelihood of Cambodian Royal Court;
The livelihood of Cambodian Market;
The market visit of Prince Pya Noy;
The attempt to lure love;
The attempt to buy love;
The love is stolen;
The smart way of administering justice. 
Scenes
Scene 1: Homrong
In any Cambodian show, it usually preludes with a scene of Homrong. It is a ritual of blessing and praying to dancing gods and our ancestors for flawless performances. Cambodian American Heritage, Inc. (CAHI) will perform the scene.
Scene 2: Lives at Royal Court
This is the royal families including King, Queen and his son Pya Noy gathering at the Royal Court. The scene consists of:
a praying ritual;
a honoring Grand Master of martial art followed by a demonstration Bokoto;
a peacock dance 
Scene 3: the livelihood of Cambodian rural market
The scene is about Mak Theung and Meuy Cheuy peddling cosmetic products, followed by a dancing scene.
The dancing is a masterpiece developed for Cambodian Community Day (CCD) in 2006 by Master Sichan Ouk. For Cambodian Festival of 2013 (9/22/2013), the dance will be instructed and directed by Master Vannara Be.
The dance will be in pair dancing crossing the stage. Then each couples present what they are selling according the music rhythm and lyric. They are:
1. Couple selling flowers
2. Coupe selling cakes
3. Couple selling clothes, silks, Holl, Pha Moung
4. Couple selling traditional medicines
5. Couple selling fishes
6. Couple selling vegetables
7. Mak Theung & Meuy Cheuy selling cosmetics
Scene 4: the visit of Prince Pya Noy
The performance is on and in front of the stage. Prince Pya Noy, his male entourage, his general and soldiers are visiting the market place. Prince falls in love with Meuy Cheuy, Mak Theung's wife, at first sight.

Scene 5: the attempt to lure Meuy Cheuy
The performance is on stage. Prince Pya Noy sends his general to call for Meuy Cheuy to see him. The prince attempts to lure Meuy Cheuy into loving him. She refuses.
Scene 6: the attempt to buy love
The performance is on stage. Knowing that Meuy Cheuy will not fall for him,  Prince Pya Noy sends his general to call for Mak Theung to see him.  The prince asks Mak Theung to exchange his wife with large sum of money and jewelry, anything he wants. Mak Theung refuses.
Scene 7: the swearing ceremony
The performance is the stage decorated with an altar. It is about the parties in conflict (Prince Pya Noy, Mak Theung and Meuy Cheuy) to swear to truth but only the truth. There will be also a ritual dance to pray to ancestors to help them finding the truth.
Scene 8: the attempt to identify who is Meuy Cheuy by the King
After the kidnapping, Prince Pya Noy changed Meuy Cheuy's name to Pankee Ya. This scene is about the King questioning Meuy Cheuy's true identity in a court hearing setting. It will be performed on stage.
Scene 9: the carrying-drum trip
The performance is on and in front of the stage. The scene is a dancing scene developed by Master Vannara Be.
Cost: $3,500.00
PART II:  PERFORMANCE DESCRIPTION
The Cambodian American Heritage, Inc presents the Classical/Folklore dances as follow. The pictures shown are just for illustration only.
Selections of the Cambodian Classical Dance Repertoire for CCD September 22nd, 2013
(The dance will change if necessary based on CAHI availability)

1. Robaim Choun Por (Blessing Dance)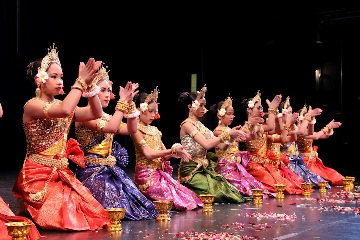 By tradition, Cambodians mark special holidays with certain dances from the repertoire of Cambodian classical ballet.
To mark the occasion such as Cambodian Community Day Observance, a performance of the Blessing Dance is in order. This dance is performed by a group of young and beautiful girls to entertain and wish guests of honor as well as the audience, good health, happiness, prosperity and success. This dance features the dancers move gracefully and elegantly, holding golden goblets. Inside the goblets are flower blossoms. The blossoms are symbolic representations of blessings from the gods. As the dancers pluck the blossoms from the goblets and gently toss them forward toward the audience, the gesture symbolizes the blessings of the gods falling upon the audience.
 
Featured Performers:  Darlene You, Sharee Forbes, Diana Ouk, Katherine Yap, Erica Yap, Stephanie Yap and Samantha Lushinski
2. Robaim Dao (The Sword Dance)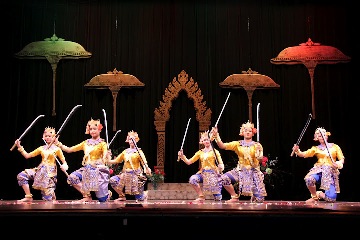 We are pleased to present a new repertoire for our audience in The Sword Dance.
In addition to the synchronized dancing common in Cambodian classical dance, this repertoire also features the dancers in complex sequences managing not one but two swords. This adds a dimension not often seen as part of the classical repertoire where the dancers not only performed the highly ritualized choreography of Khmer ballet but also display talent and ability with the martial implements central to the dance.
This dance is rarely seen in the general public but it is usually performed during the military commencement exercises in which senior military officers pass the swords to the newly graduated officers and encourage them to be faithful, to love and defense their homeland and that they must be strong, courageous and devoted to defending the security of their beloved country.

Featured Performers: Paula Chea, Julianna Dos, Regina Yap, Suteera Nagavajara and Maytinee Pramawat
3. Robaim Me Ambao (The Butterfly Dance)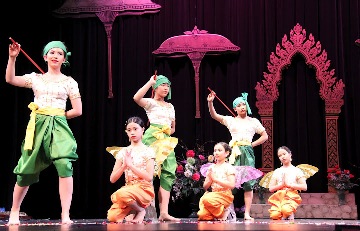 As with all ballet, students of the dance are taught to mimic a broad range of subjects. These include not only human characters but also those in nature. They can include birds, sea creatures (like mermaids) flowers and characters from the realm of wonder and magic.
The butterfly dance is one representation from the world of nature. Here, our intermediate students act out a courtship ritual often seen in the natural world.
We should note that in its purest form, the Cambodian classical is performed almost exclusively by young girls and women. Such is the case here, where the girls present both male and female roles.
Featured Performers:  Female Role:  Darlene You, Grace Rafferty, Elizabeth Yap, Stephanie Yap Male Role: Erica Yap, Katherine Yap, Sharee Forbes and Samantha Lushinski