Kampong Chhnang Province
Table of Contents
Overview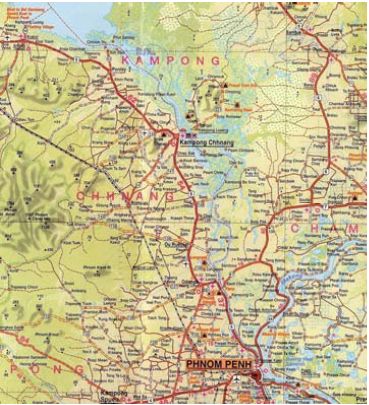 Kampong Chhnang (Clay Pot Port), on the Tonlé Sap River, is a tale of two cities: the leafy centre, its focal point a grassy park, and the bustling dockside. Nearby sights include two floating villages and a hamlet famous for its distinctive pottery. The word "kampong" means that it is a port. Kampong Chhnang has many floating houses along its river, and the word "Chhnang" is the Khmer word for pottery. By land, the town is a straightforward stop on the way from Phnom Penh to Battambang, or an easy day trip from the capital, perhaps combined with a visit to Udong. You can also get to Kampong Chhnang by water; usually it's possible to get off the Phnom Penh-Siem Reap fast boat here. 
Geography
Kampong Chhnang, one of nine provinces that is part of the Tonle Sap Biosphere Reserve, is a central province of Cambodia. Its capital is Kampong Chhnang Town. The province is famous for its clay pots. Kampong Chhnang is located 70 kilometers from Phnom Penh. Nestled along rivers, fishing is one its major natural resources. Rice and vegetable farming are also widely harvested. 
Climate 
Similar to the entire Cambodia, Kampong Chhnang has a tropical monsoon climate. December and January are the coolest months, while March and April are the hottest. The province's rainy season extends from May to October. Average annual rainfall is about 1,400 mm (about 55 in). The average annual temperature is about 27°C (about 80°F). 
Economy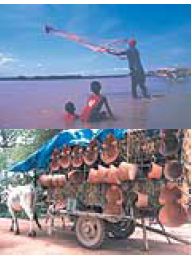 Kampong Chhnang's economy consists basically of fishery, rice and fruit cropping and several garment factories. Especially rural households depend on agriculture and its related sub-sectors. 
How to Get There 
The ferries linking Phnom Penh with Siem Reap pass right by Kompong Chhnang. If you'd like to get off here, inform the boat company in advance and they should be able to arrange for a local launch to pull up alongside the ferry and whisk you ashore. From the bus and taxi station, Phnom Penh Sorya (012 631545) has services to Phnom Penh (7500r, 91km, five or more a day to 3.30pm), Pursat (8000r, 97km, six a day till 4pm), Battambang (20, 000r, 202km, two or 2½ hours, five a day till 2.30pm) and Poipet (30, 000r, two a day in the morning). 
Tourist Attraction 
Ondong Rossey---The quiet village of Ondong Rossey, where the area's famous red pottery is made under every house, is a 
delightful 7km ride west of town through serene rice fields dotted with sugar palms, most with bamboo ladders running up the trunk. 
The unpainted pots, decorated with etched or appliqué designs, are either made with a foot-spun wheel (for small pieces) or banged 
into shape with a heavy wooden spatula (for large ones). Artisans are happy to show you how they do it. 
Phoum Kandal and Chong Kos---A short sail from Kompong Chhnang's waterfront takes you to two colourful floating villages, 
Phoum Kandal to the east and Chong Kos to the northwest. Much less commercial than Kompong Luong, they have all the amenities a mainland village would have -houses, machine tool shops, veggie vendors, a mosque, a petrol station - except that almost everything floats. Many of the people are ethnic Vietnamese.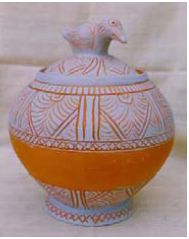 Pottery Development Center-The golden-hued mud piled up in the yards of Ondong Rossey is quarried at nearby Phnom Krang Dai Meas and pounded into fine clay before being shaped and fired; only at the last stage does it acquire a pinkish hue. Pieces, including piggy banks, can be purchased at the Pottery Development Center. In Kompong Chhnang, several stalls selling Ondong Rossey pottery can be found on NH5 towards Phnom Penh from the centre.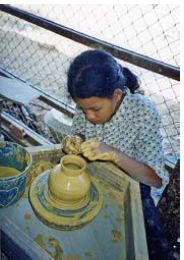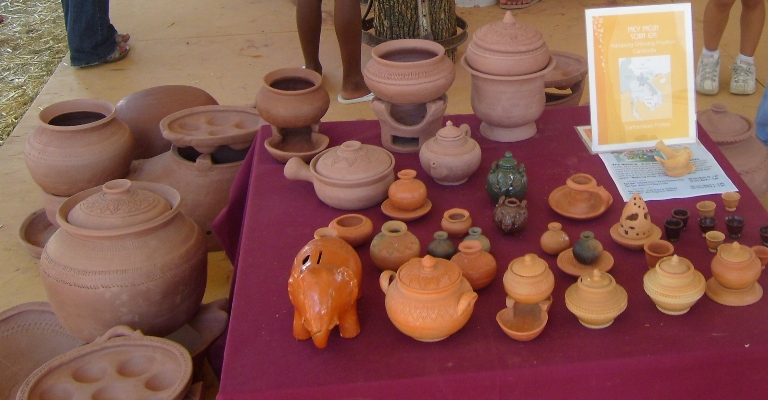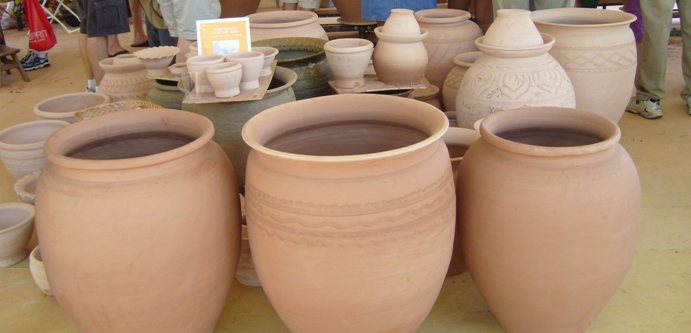 Researched and illustrated by Ben Bao. Source: Ministry of Tourism of Cambodia