Kampong Thom Province
Researched by Natalie Chhuan, edited and illustrated by Ben Bao. 
Table of Contents
Researched by Natalie Chhuan, edited and illustrated by Ben Bao. 
Overview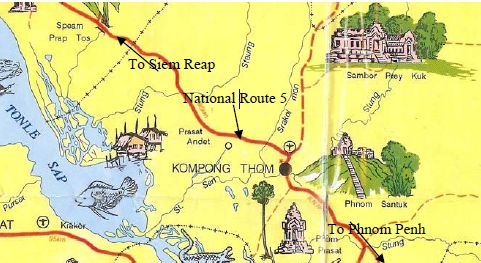 Kampong Thom is a province located at the central point of the Kingdom of Cambodia. 'Kampong Pos Thom' was the original name. A long time ago, at the dock of the Sen river next to a big natural lake, there was a cave home to a pair of big snakes inside. The people living around the area usually saw these big snakes every Buddhist Holiday. Over time, the snakes disappeared and the people called the area 'Kampong Pos Thom' with a short name as 'Kampong Thom'. The province is the home of Sambor Prey Kubh, one of the more than 200 ancient temples and other tourist attractions such as the exotic lakes, rivers, forests, and mountain sites. 
Geography
The province has a total land area of 15,061km2 divided into 8 districts, 81 communes and 477 Villages. It borders in the North with Preah Vihear Province and Siem Reap Province, to the East with Kratie Province, to the South with Kampong Cham Province and to the West with Kampong Chhnang Province. The total population is 576,805 people (110,334 families, women approximate 51%). It has road network which links from Phnom Penh to Siem Reap Province on National Road 6, and separates to Preah Vihear Province National Road 64 in a distance of 126 km. At the central point of the Kingdom of Cambodia, the province is divided into two parts. The Eastern part of National Road 6 covers 70% of the surface consisting of forests and plateau, rich in natural resources which are good for agriculture, forestry and animal husbandry. The Western of part of National Road 6 covers 30% of the surface consisting of the plain area extending to Tonle Sap Lake. This area is good for rice growing and fishing supporting the needs for the whole province and exporting to others. 
Climate 
Similar to the rest of Cambodia, the province has a tropical climate - warm and humid. In the monsoon season, abundant rain allows for the cultivation of a wide variety of crops. This year-round tropical climate makes the province ideal for tourists. Travelers need not fear natural disasters such as erupting volcanoes, earthquakes, or tropical storms. The province can be visited throughout the year. However, those plans to travel extensively by road should be avoided the last two months of the rainy season when some countryside roads may be impassable. The average temperature is about 80f with the minimum temperature at about 61ºF December and January are the coolest months, whereas the hottest is April. Cool season: November- March (68ºF-82ºF); Hot season: March-May (86ºF-95ºF); Rainy season: May -October (74ºF-86ºF ), with humidity up to 90%.) 
Economy
Kampong Thom is a province rich in tourism potentials to attract national and international tourists such as the exotic lakes, rivers, forests, mountains and more than 200 ancient temples. Much of Kampong Thom is located on the floodplain of Lake Tonle Sap. In 2005 it was a significant harvester of wild fish (18,800 tons) and the fourth largest producer of fish through aquaculture in Cambodia (1,800 tons). Most fish-raising is home production, with a growing segment devoted to rice field aquaculture. Kampong Thom is also one of the largest producers of cashew nuts in Cambodia, with 6,371 hectares under production. 
How To Get There 
Kompong Thom province is best accessible by ground transportation such as leased vehicle or bus on National Road 6 from Phnom-Penh or Siem Reap. Details of various ground transportation mode: 
Bus: The province has a very basic road network, which links Phnom Penh (168km) and Siem Reap (150km) with the National Highway No 6, and the separate National Road 64 to Preah Vihear province with a distance of 126 km. There are lots of bus companies going from Phnom Penh to Siem Reap or back, so while they pass Kampong Thom its easy to drop off there. 
Share Taxi: If you want to shorten the time spend on the trip to Kampong Thom you may take one of the share taxis, mostly leaving near the central market. Taxi is not always a comfortable way of travelling and it is more expensive than bus. 
Tourist Attractions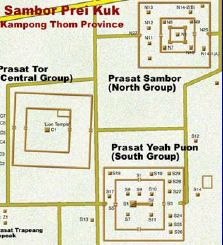 The province is the home of the more than 200 ancient temples and other tourist attractions such as the exotic lakes, rivers, forests, and mountain sites. The few sites below are representatives of the many historical treasures of the Kampong Thom Province. 
Sambor Prei Kuk
The ancient city where monuments of Sambo Prei Kuk as found today was identified as ISANAPURA, the capital of Chenla in 7th century, a former vassal of the Funan kingdom, one of the first state in Southeast Asia. Main archaeological features in these groups of monuments are classified as Sambor style the foundation of many decorative details in Khmer architecture and sculpture. The historical traces suggest that these monuments must have belonged to the important provincial principle city after Pre Angkor period.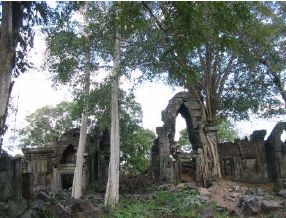 This group of monuments is extremely significant not only for Cambodia but also for the entire area of Southeast Asia, for they are the only remaining sound architectural constructions that exemplify the architecture and sculpture of the early period in sizable quantity. Sambor Prei Kuk cluttering sanctuaries were located in Sambor Village, Kampong Cheuteal Commune, Prasat Sambor District, Kampong Thom Province. The over 52 sanctuaries were built of brick and limestone with the decoration of bas-relief on the scenery walls. The foundation of sanctuary was made of laterite, false door, diamond column and the sculptures were made of sandstone. 
Prasat Sambor Group (Northern Sanctuaries)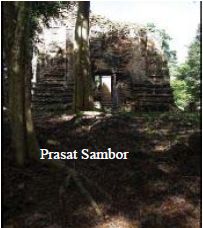 The Northern group comprised 11 sanctuaries separated from each other with the one at the middle, and had two-wall rampart. The sanctuaries were built of brick and limestone and carve in the beautifully real Khmer style. The sanctuary comprised 14 temples (only 8 remains), and were surrounded by two-wall rampart. These temples were constructed in various plans-square and octagonal shapes. The top of the temple was carved in lotus petals of sandstone, but some parts were cracked down and buried into the ground and the pile of bricks. 
Lion Temple Group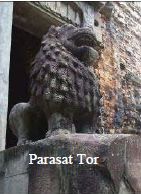 Lion temple group comprise 18 temples with two ramparts closed to the pond. The reasons why the people called Lion Temple because on the tops of all stairs from the four directions, there were sitting lions with forelegs standing up, hind-legs humbling down, its head rose up Prasat Samborand its mouth opened to the sanctuary. Now the pond is empty during the dry season. 
Parasat Tor Kroul Romeas Group
Behind Kroul Romeas Group, there were four more sanctuaries made of brick and built during the reign King Suryavarman 1(end of 11th century). These sanctuaries were built on a rectangular hill, and faced to the East. One of sanctuaries was not completely built yet, it was likely built in later period. The lintel was carved in the form of bow without the modal. At the southeastern side, there were two temples recognized as the original ancient khmer styles. 
Prasat Yeah Puon Group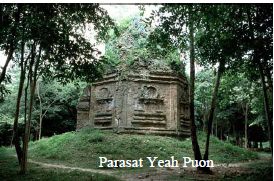 Prasat Yeai Poeun Group comprised a total of 22 sanctuaries (5 have octagonal shapes) with two wall rampart, and was built of brick, masonry, laterite and sandstone in rectangular from in 7th century (600-635) during the reign of Isanavarman I to dedicated to Shiva. They were built on a hill with Gopura from the eastern and western entrances joining to an outside laterite rampart. The inner rampart reached by gateways from the four directions and joined to the brick rampart Parasat Yeah Puon carved in various clustering figures. 
Phnom Santuk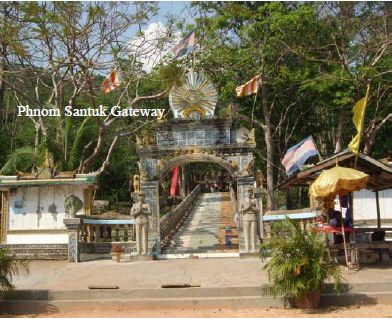 Phnom Santuk Mountain has many Buddha statues carved from great mountain rock including three big Buddha statues reaching Nirvana, each measure than 10-meter length. Phnom Santuk has changed names to Chorn Chong Kiri and Phnom Krop Tuk. Chan Chan Dare Phnom Santuk Gatewayor Chan Chare are called two pieces of stone by local people that join all together in marked symbol and made in small hole. When the passenger arrived there, they always dropped cash coins (ancient coins) into this small hole. When cash coins are dropped in, it makes soft weak voice like a voice of the birds sing or music with happiness. So they did that since ancient period. 
 Stone Handicraft located at Ka Kos Village, Ka Kos Commune, Santhuk District in 16-km distance from Provincial Town of Kampong Thom on National Road 6. The craftsmen take the rocks from the Santhuk mountain's foot to make statues and various figures for house decoration. This stone handicraft is served for domestically and internationally target markets. Beside stone handicraft, Kampong Thom has other handicraft like Krama, Silk shirts, traditional khmer clothing and handbags. 
Prey Pros 
Prey Pros is a natural and cultural site located at Prey Pros Village, Prey Preal Commune, Kampong Svay District in approximate 16-km distance northwest of Kampong Thom province. The site cover an area of 2 million square meters and includes a river which is Stairway to the mountain toprich in Domrei fish. The site is a venue for foot races, bicycle races, and other games during national festivals. In addition, there are several recreational activities such as boating, fishing and swimming, with resting cottage where food and drinks are sold. The view from Prey Pros is beautiful and enchanting, with wind blowing across the river cooling and refreshing visitors. 
Prasat Andet
Prasat Andet is located northwest of Kampong Thom province. The temple was built in second half of 7th century of brick with masonry, laterite and sandstone. Prasat Andet had isolated plan facing to the East. The lintel of Prasat Andet was carved in the garlands and carefully done in the traditional khmer style. On the northern framed door, we can see the marks of a cloven hoof of tiger cat that used to be in the upper box of the door. 
Bird Sanctuary of Boeng Tonle Chmar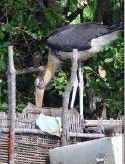 Boeng Chmar contains fishing lot 5 and lot 6, and is 30km far from Stoung District town of Kampong Thom Province, there were villages of Nesat, Kamong Kdei, Svay Kor, Mo Doung, Kampong Bradom and Msa Trang Tboung in Peam Bang Commune. The people living in this area with floating houses that are moving up and down according to the water levels in the jungle and flooded forest. The bird sanctuary of Boeng Chmar covers a land area of 400 hectares having an interconnecting network of water channels along the bank of Boeng Kla Lake, rich in flooded forests. This area is connected by two big river tributaries.