Ratanakiri Province
Tables of Contents
Overview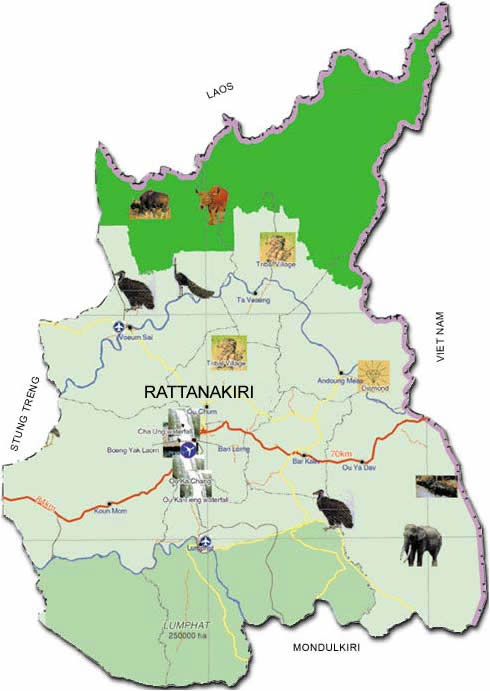 Ratanakiri is the "Wild East" of Cambodia, situated on the mountainous within Cambodia northeastern corner of Cambodia. Ratanakiri Province is considered an eco-tourism capital of Cambodia due to its rich sources of jungle, wildlife, waterfalls, and spectacular scenery. Remote, beautiful and authentic, the province holds some of the greatest adventures Cambodia has to offer, including swimming in a crystal clear crater lake, hiking through lush jungle, remote jungle rivers, and elephant trekking, discovering hidden waterfalls.
The province is also home to some ethnic minority groups whose tribal lifestyle is still self-sufficient, but recently has been threaten to abolish due to technology and modern lifestyle. Nevertheless, they are very attractive to
foreign visitors. The most famous tourist site of the province is Yeak Laom volcanic lake, a perfect bathing spot that is renowned for its exceptionally clear water, hosting tens of thousands of tourists every year despite the 586 kilometers of dreadful road from Phnom Penh.

Geography
Ratanakiri is situated on the northeast plateau, 636 Km from Phnom Penh. It is bordering Vietnam on the east, Laos PDR on the North, Steung Treng province on the West and Mondulkiri on the South. There are two bigger rivers crossing the province ( Sre Pork and Sresan River ). The total area of Ratanakiri is about 10,782 square kilometres.
Sre Pok River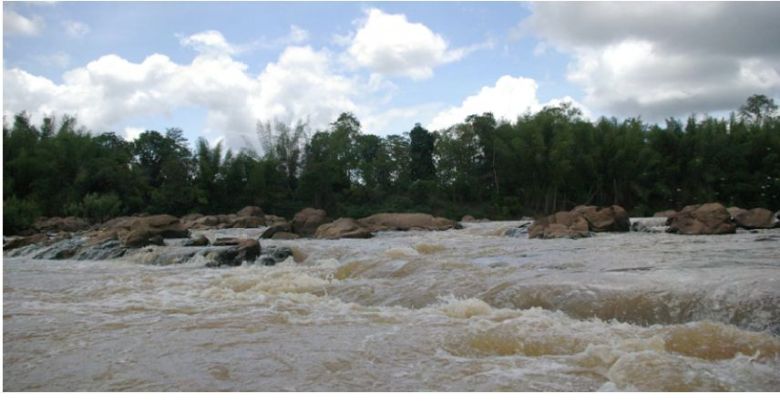 The Srepok River is a major tributary of the Mekong River. It originates in the Central Highlands of VietNam. In Cambodia, it flows through Mondulkiri and Ratanakiri provinces and finally Stung Treng, where it joins the Sesan River. Its length varies from 406 km to 450 km in which the last 281 km course is in Cambodian territory. Before joining Mekong River, the Srepok merges with Sesan River and Sekong River in Stung Treng province where the Sekong empties its flow into the Mekong River. The river's course from Vietnam-Cambodia border to Stung Treng is about 281 km. For most of its length the Srepok is very rocky, and there are numerous deep-water pools which provide important dry-season refuges for fish brood stock,
contributing to the productivity of the river. There are numerous tributaries, the largest being O Leav, O Tang and O Chbar.
The Srepok River basin is undergoing rapid change, with both positive and negative impacts on the livelihoods of the people who live along its stretch, mainly the indigenous minorities, including Punong,Tampuon, Jarai, Brao/Kreung, Thmon and Kraol. These ethnic minorities are self-sufficient people. Among different groups or tribes, they seem to mutually agree that a territory belongs to village boundaries which must not be crossed without permission. The indigenous communities is often closely linked to spirits associated with particular places within that area where they live.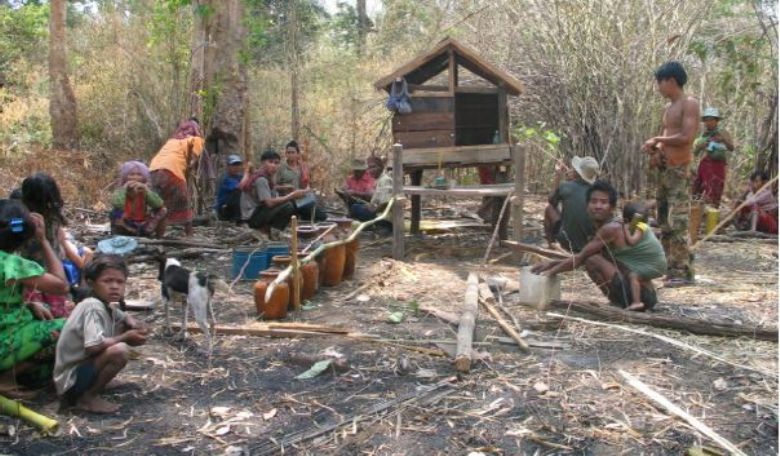 Future development activities in the basin, including the construction of large hydro-power dams where Cambodian part of the Srepok River basin was commissioned threatens to destroy their way of life.
The Srepok River basin is mostly off-limit to car and truck even though they are becoming more important in modern day. So boat transport remains critical for fishing, collection of wildlife and forest products, going to fields, or even visiting other villages.

Sesan River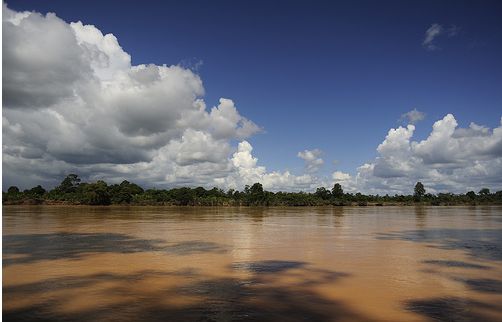 The Sesan River is one of the largest tributaries of the Mekong. It is an important river with its headwaters in Gia Lai and Kon Tum Provinces in the fast developing Central Highlands of Vietnam. From these mountainous areas the river winds its way southwest into Ratanakiri Province in Cambodia and then onto Stung Treng Province where it converges with two other large tributaries, the Sre Pok and the Sekong, before the latter flows into the mainstream Mekong River. The greater length of the Sesan River is located within Cambodia. The Sesan River is relatively wide, averaging 150 m wide in the upper reaches and 300 m wide lower down. Most sections of the river are dominated by sand and gravel bars, apart from the lowest section, below Phum Khsach Thmei, which is much more rocky. In the upper reaches of the river, bars comprise mostly gravel, often with low shrub growth, while those in the lower reaches are almost entirely sand, with little or no shrub growth. The riverine vegetation is dominated by semi-evergreen and mixed deciduous forest, which grades into deciduous dipterocarp forest away from the river.
Tourist Attractions
Rattanakiri has a unique natural beauty and wealth of natural resources. A land of mountains and rain forests -home to a variety of wildlife. It is a land of rivers, waterfalls and fields of bright yellow wild sunflowers. Ratanakiri province offers a completely unique experience.
Yeak Lom Lake
Yeak Lom lake is by far the most interesting place which drawn thousands of foreign visitors each year. Yeak Lom is a volcanic lake in the middle of a beautiful landscape of mountainous forests in Ratanakiri province of northeastern Cambodia.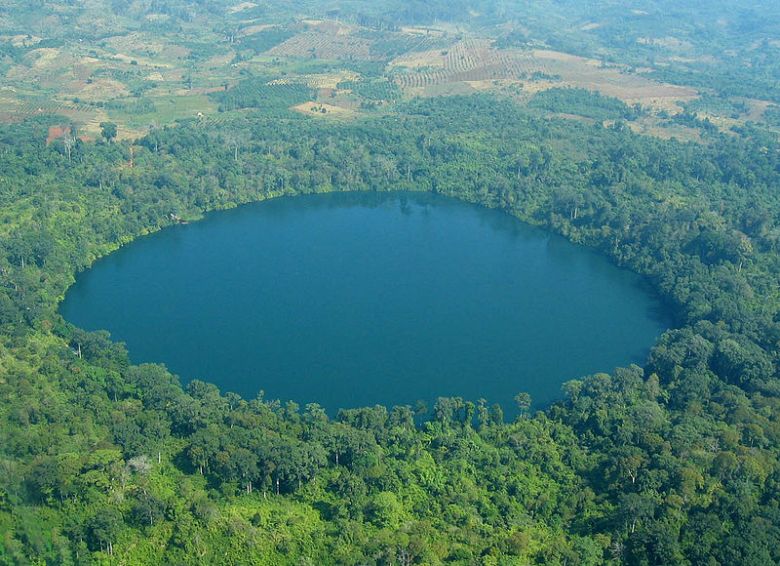 Located approximately 3 miles (4.8 kilometers) from the provincial capital, Banlung, the beautiful lake occupies a 700,000-year-old volcanic crater. Due to the lake's tremendous depth, 50m deep, its water is exceptionally clean
and clear and is perfect for swimming in a hot summer day. The lake is almost perfectly round circle which measures
approximately 800m in diameter. Large trees and rich, lush rain forest surround the lake are home to many exotic birds,
parrots an other rare species. The lakeside docks are ideal places to relax with your family and friends.
Until recently, Yeak Laom lake has been inhabited mostly by Tampuen, one of the eight ethnic minority tribes in Ratanakiri. Their commune consists of five Tampuen villages totalling about 1500 people. The villages, Lapoe, Lon and Sil are adjacent to the road to Yeak Laom Lake. Chree village is located west of the lake, next to Banlung. Now, much of the land of Yeak Laom commune has become owned and occupied by people coming from other areas of Cambodia. The Tampuen people have retreated to the far corners of their traditional domain.
There are many popular myths and legends that describe the origin of this volcanic lake in Cambodia. The ethnic minority groups of Ratanakiri, attaches religious beliefs with the Yeak Laom Volcanic Lake in Cambodia and the nearby locality. In particular, the Tampuens, are deeply animistic and believe that spirits who live in big rocks, streams, lakes jungles and forests surround them.
Cha Ong Waterfall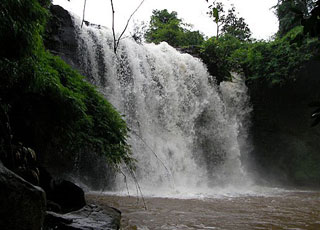 Cha Ong waterfall is in the forest in Cha Ong village, O'Chum commune, about 2 kilometers west of Ban Loung provincial town. It was given its name by the Kreung hill tribe living nearby. The waterfall gets its water from Phnom Eysei Patamak or Phnom Svay near Ban Loung provincial town. From its upper level, the water flows from a small canal before dropping 25 meters to a lower level. A mountain slop leads visitors to the bottom of the waterfall, where they can sit inside a cave and enjoy the view.
Ka Chanh Waterfall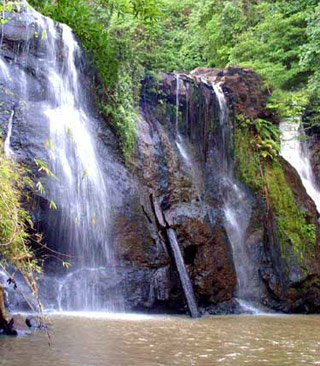 Ka Chanh waterfall is located in Ka Chanh commune, Ban Loung district, about 6 kilometers southeast of Ban Loung provincial town. The waterfall is 12 meters high and is fed year round by the O'Kan Teung canal. From the waterfall the water flows into Sre Pork River in Lum Phat district. The waterfall was given its name by the Kreung ethnic minority in Ka Chanh village.
There are a number of scenic rubber plantations along the canal leading to the waterfall. The base of the waterfall, which is a lovely place for picnics, can be reached by climbing down a 72-step wooden staircase. Elephant rides to the site are
also available.
Population
There are 12 different hill tribes ethnic groups in Ratanakiri. Most of them live in the deeper jungle, on the hills and covered mountains in small separated villages. Usualy they make their living through traditional ways of cultivation ( shifting agriculture), hunting and collecting fruits from the forest is a must. These old cultures believe in spirits, derived from their animism beliefs. In the whole province there are 63,333 male and 64,774 female with a total of 128,107 inhabitants living.
Over 80% of Ratanakiri's population of 72,000 is classified as hilltribe, mainly Jarai, Krunh, Brou, and Tampuan. The 12 ethnic minority group are collectively called Khmer Loeu (highlanders). Most highlanders in Ratanakiri are animist and practice slash-burn agriculture. They farm rice and grow vegetable, and raise water buffalo and cows. They also hunt, using crossbows with poison-tipped bamboo arrows. Sacrifice to the numerous animal spirits of the forest is common, and regularly performed for any special events such as marriage, the construction of a new thatch-roofed hut, or a move to a new village location. At these events a feast is held, a pig sacrificed and large quantities of rice wine consumed.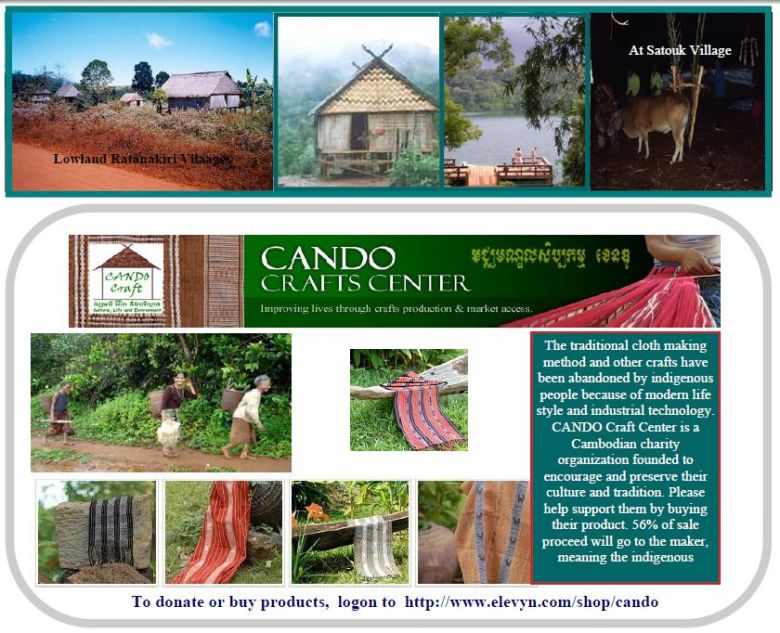 To donate or buy products, logon to http://www.elevyn.com/shop/cando