Siem Reap Province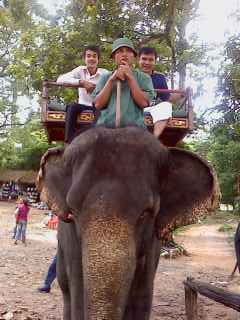 Tables of Contents
Overview

Siem Reap is a major tourist hub in Cambodia. The most recognizable place in Siem Reap is the temple of Angkor Wat, a Capital Temple that was built by King Suryavarman II during the early 12th century. Siem Reap also has many marvelous temples within the vicinity of Angkor Wat. It is located in a quiet environment surrounded by many natural wonders. Recently the city has seen a great deal of expansion; hundreds of hotels, restaurants and shops, catering to both international and Cambodian tourists, have been opened to serve the influx of visitors.
Geography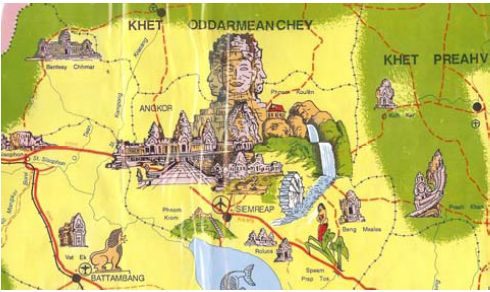 Siem Reap covers an area of 10,299 square kilometers and it is located in the Northwest of the country bordering to the North with Oddor Meanchey, to the East with Preah Vihear and Kampong Thom, to the West with Banteay Meanchey and to the South with the biggest sweet water reserve in Southeast Asia, the huge Tonle Sap Lake. The province in general, espe­cially in the Southern part consists of the typical plain wet area for Cambo­dia, covering lots of rice fields and other agricultural plantations. The north-
Climate 
Siem Reap has a weather that is mainly dominated by monsoon. It has two kinds of monsoon Siem Reap climate remains hot from March to May and the cool season begins November to February. 
Economy 
Businesses centered around tourism have flourished, thanks to the tourism boom. There are a wide range of hotels, ranging from several 5-star hotels and chic resorts to hundreds of budget guesthouses. A large selection of restaurants offer many kinds of food, including Italian, Indian, French, German, Russian, Thai, Korean, Japanese, and Burmese. Plenty of shopping opportunities exist around the Psar Chas area while the nightlife is often vibrant with a number of western-styled pubs and bars. 
Getting There 
By car, bus & taxi 
From Phnom Penh, take National Route 6 north. 
By Boat 
There are daily express boat services between Siem Reap and Phnom Penh. The boat to Phnom Penh is a bit of a rip-off these days, given it is just as fast by road. 
By Air 
There are direct international flights from Siem Reap-Angkor international air­port to Thailand, Laos; Vietnam; Hong Kong; Malaysia, China; South Korea; Singapore and Taiwan. Domestic links are currently limited to Phnom Penh 
Tourist Attractions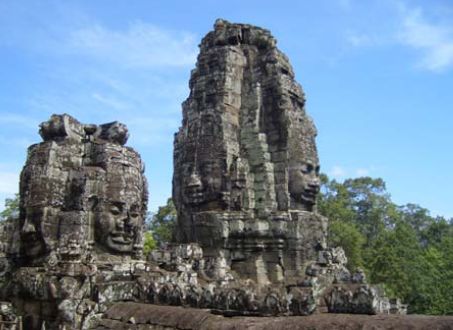 Most tourists come to Siem Reap to visit the Angkor Wat, Angkor Thom, (about 6Km north of the city), and other Angkor ruins. While those are still the main attractions, there are plenty of other things to experience, such as a dinner with an Apsara Dance per­formance, a trip to fishing villages and bird sanctuary, a visit to a craft workshop and silk farm, or a bicycle tour around the rice pad­dies in the countryside.