Preah Sihanouk Province
Table of Contents
Overview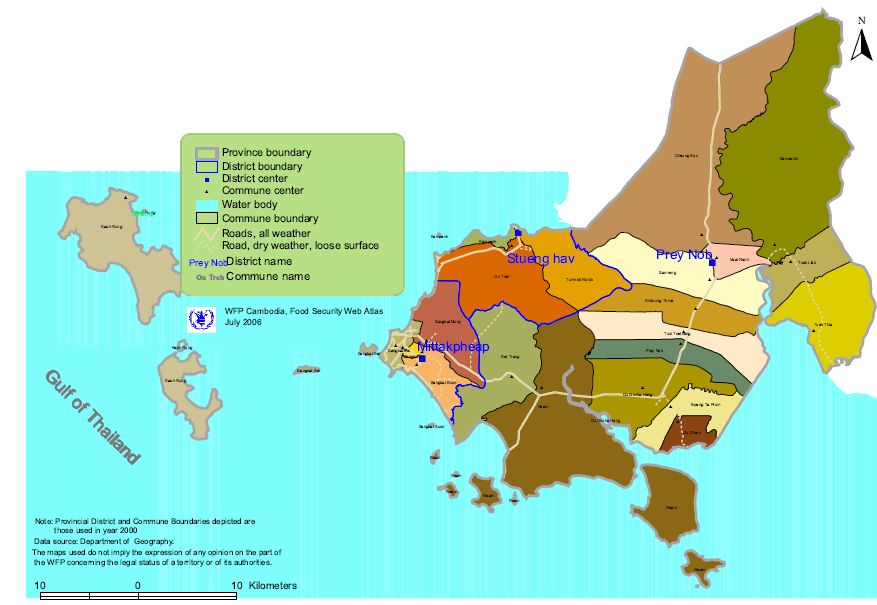 Sihanoukville (in Khmer: Krong Preah Sihanouk) and the surrounding areas recently become Sinahnouk province. Known to locals as Kampong Som, it is now a province in southern Cambodia on the Gulf of Thailand. The province is named after former King Norodom Sihanouk following Cambodia's liberation from France. Its capital is Sihanoukville and is the only deep water seaport in Cambodia. The port was constructed in 1955. The province boasts pristine white-sand beaches, unspoiled tropical islands, and a dynamic nightlife. 
Sihanoukville's coastal treasures make it one of the most loved beach destinations in all of Asia With its palm-studded shores and warm, clear waters. Sihanoukville attracts crowds of locals, expatriates, and tourists eager for a beachside holiday. There are dozens of untouched islands off the coast of Preah Sihanouk: Koh Rong and Koh Rong Samlon both feature blissfully un-crowded beaches with palm-shaded shorelines. Being a beach town, there are also many sea-based activities for adventurous visitors, including boating, island-hopping, fishing, diving and snorkeling in crystal clear waters. One of the most popular attractions is Ream National Park. Sihanoukville has a few beautiful sandy beaches. While each of the beaches has its own distinct charms, the most popular tend to be Sokha Beach, Victory Beach, Ochheuteal Beach, Independence Beach, Otres Beach and Serendipity Beach. Visitors are enchanted by each of its tranquility and its natural beauty. Sihanoukville is a also an ideal place for snorkeling and scuba diving. 

Geography 
Sihanouk province is located in Southern Cambodia on the coast of the Gulf of Thailand about 230 kilometres (143 mi) southwest of Phnom Penh. It borders Koh Kong to the North, Kampot to the East. Its capital is Sihanoukville, a town area that is spread thinly across a peninsula, surrounded on three sides by beaches, with the downtown area near the center of the peninsula a couple of kilometers from the beaches. Sihanoukville is classified as a municipality.Its topography of the municipality is variable from coastal areas to lowland/ upland mosaic in the northern hinterland. Being a rather small province, Sihanoukville has two main urban centers: the port itself and the Prey Nob District, 46 kilometers from Sihanoukville downtown to the north. 
 Demography 
In 2008 there were 199,902 persons living in Sihanoukville province. It comprises mostly of Khmer ethnic group. There are many other groups like Vietnamese, Chinese, Cham, Thai, French, British, Korean and Americans, especially because of its status as a port. The Cambodian culture is predominantly Khmer. But the presence of several human groups in Sihanoukville makes the province a place for multi-cultural manifestations. The people of Sihanoukville celebrate the traditional feasts of Cambodia and other festivities like Cambodian New Year (April), Chinese New Year (between January and February), Water Festival in Prey No (November), Pchum Ben (honor to the ancestors in October) and Kathen Ceremony (offerings to the bonzis). The ethnic and minority religious groups celebrate the Christmas Day (25 December) and Holy Week for the Catholics, the Ramadan for the Muslims, the Valentine Day and the International New Year (31 December). 
The inhabitants of Sihanoukville dedicate especially to commerce, fishing, agriculture and industry. It is used that families visit the beaches and waterfalls at the weekends. Generally people from Sihanoukville are friendly and they are used to visitors from other Cambodian provinces and foreigners. 
Tourist Attractions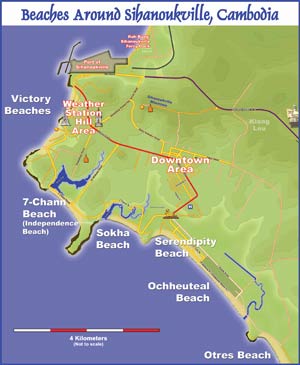 Significant values of Sihanoukville include Sihanoukville' s international port, the pristine beaches and waterfalls, abundant natural resource, and key ecological sub-systems. Ream National Park, the country's only marine national park offers numerous unique ecological habitats. Beaches, Beaches, Everywhere! 
O'cheuteal Beach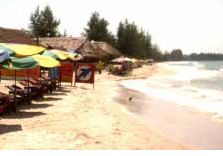 O'cheuteal Beach on the East side of town, about a 5 minute motorcycle ride from downtown. This beach runs about 2 kilometers from Serendipity Beach to Otres Beach. O'cheuteal Beach is filled with beach stands and chairs. Seafood, burgers, pizza, and booze. Most places 
serve Khmer style food, but many now offer Western dishes. Across the street from the beach, there's an assortment of restaurants and hotels. 
O'treas Beach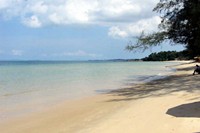 O'treas is the quietest beach in town. Several small beach stands with food and umbrellas are available. There's no public electricity here yet, so many places use a generator when necessary. 
Sokha Beach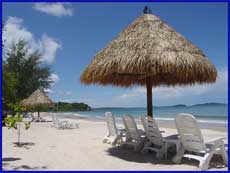 Sokha Beach is located just west of Serendipity Beach. This beach is privately owned by Sokha Beach Hotel, the first five star luxury beach hotel in Cambodia. It provides many facilities with a wide white sandy beach, but hotel guards may prevent visitors who are not guests from going on the beach.
Independence Beach 
Independence Beach Independence Beach is located next to Sokha Beach on its west. The beach was named after the old Independence Hotel. This beach offers a good stretch of clean sand. Situated at the northern end of the beach is Independence Hotel and Koh Pos Beach with a tiny island only 800m off the coast. Koh Pos is known for its rock strewn shoreline. 
Victory Beach 
Victory beach is situated at the furthest north of the peninsula of Sihanoukville. It was the original backpacker beach and is still popular with budget travelers. Victory beach has quickly become the tourist beach on the West side of town. An easy walk from Victory Hill, with plenty of seafood, boating activities, guesthouses, and a full service casino. Some quiet beach in the middle, and some restaurants towards the port. Also, featuring a pier for island boat trips. 
Ream National Park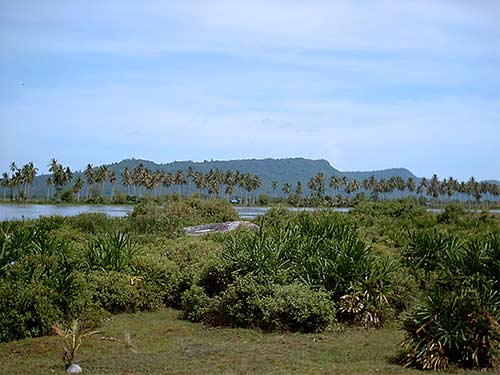 Located in Ream community, 18 km from Sihanoukville, Ream National Park was established in 1993. It is a lush evergreen ecosystem encompassing 21,000 hectares of coastal area including sandy beaches, mangrove forests, off-shore coral reefs and two islands (Koh Thmei and Koh Seh). It is also home to a number of rare birds and animals which is indeed a treat for the nature lovers. It is also a place where over a 150 species of birds live including herons and cranes. The Park provides refuge for such species, Though rarely seen, as macaques, sun bear, dolphins, mouse deer, pangolin, over a hundred species of birds and there is even rumored to be a tiger. King cobras and pythons have been spotted in the park too. Despite wild animals and snakes, the park 
offers safari tours of the smaller mammals and birds and waterfalls. Ream National ParkReam National Park is an excellent alternative for those who wish to have a break from the beach scene and enjoy other Sihanoukville attractions.A major attraction during the months of December, January and February are the magnificent fresh water white dolphins. Wat Ream, a 
buddhist temple, is also worth a trip. Visitors to the Park may do jungle trekking or take river boat trips  

along the Prek Tuk River through the jungle and mangroves to the ocean. The river trip is the most popular tour of the Park and is also more likely to provide wildlife sightings. Hiking to Meditation Mountain and Keng Kong waterfall are also popular trips. The Cambodian navy has a base at Ream and sailors may appear unexpectedly, but they cause no trouble. Getting to Ream National Park is easy. There are plenty of travel agents offering tour services. You may get there on your own by using paid motodup or renting motorbike.  
---
Discover Preah Sihanouk is Researched by Boran Tum and Ben Bao, illustrated by Ben Bao. 
Sources:
http://www.sihanoukville-cambodia.com/ http://en.wikipedia.org/wiki/Sihanoukville http://www.foodsecurityatlas.org/khm/country/provincial-Profile/Sihanoukville http://www.trekearth.com/critiques.php http://www.khaosanroad.com/index.php/en/travel-info/cambodia/203-southern-cambodia/482-ream-national-park­