Takeo Provice
Table of Contents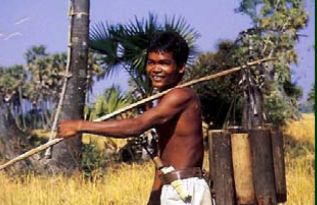 ♦  Overview
♦  Geography
♦   Population
♦   Climate
♦   Economy
♦   Tourist Attractions
•  Tonle Bati
•   Phnom Chiso
•   Phnom Da
•   Angkor Borei
•   Phnom Khleng
Overview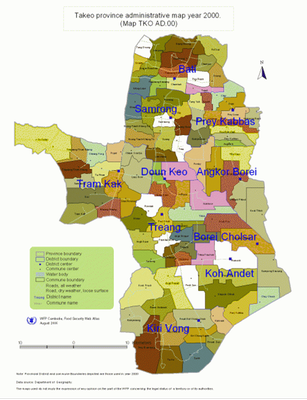 Takeo province is often referred to as "the cradle of Cambodian civilization". Takeo province has several important pre-Angkorian sites built between the 5th and the 8th century. The provincial capital, Takeo town, is an easygoing place that possesses a fair amount of natural and manmade beauty. The natural beauty is in the Scenic River and lake facing a pleasant town parkway. The low -lying areas include much of the surrounding province area, which is probably why a kingdom that once had its heart here was referred to as Water Chenla. There seems to be water everywhere in the surrounding countryside during the rainy season. The man-made beauty mostly comes from a series of canals and waterways that were cut through the surrounding countryside, many a very long time ago, connecting towns, villages, rivers and Vietnam. 
Nearby Angkor Borei town (connected by water to Takeo town) may have been the heart of the Funan Empire, which is called the "Cradle of Khmer Civilization" by Cambodians. Much older than Angkor, the Funan empire had its heyday between the 1st and 6th centuries and stretched across a vast area, from South Vietnam through Thailand, down through Malaysia and into Indonesia. Gold, silver, and silks were traded in abundance in the kingdom, series of fiefdoms. 
Archaeologists from the University of Hawaii, USA ,have made research trips to Angkor Borei in an attempt to piece together the history and story, as well as relics, of the Funan period. In an odd recent twist, Reuters News Service reported in early November 1999 that locals saw the research team digging up ancient relics and figured the stuff must be valuable, so they started digging and looting objects from the area. 

Fortunately, the Cambodian government seems to be moving in on the problem quickly to try to save what they can of this important piece of Khmer heritage. Much of what did remain in the form of ancient ruins in Angkor Borei was destroyed not too long ago in the modern past. Fortunately artifacts and history have been put together in the museum.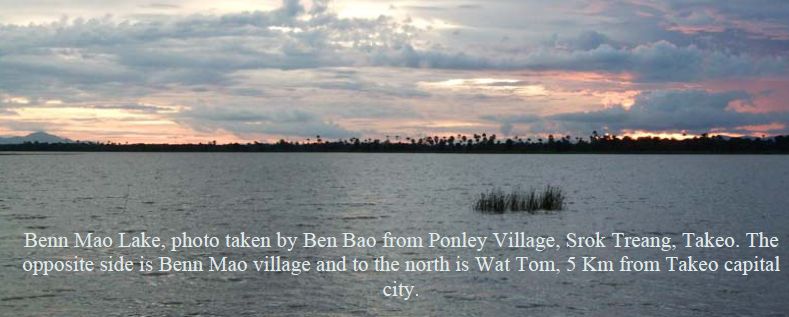 Takeo Province is full of other interesting sights as well and because of the short distance and good road from Phnom Penh, all are great day trips. Some sights can be combined in a day trip. If you have a bit more time, spend an evening in Takeo town and take in all the sights. There is a pleasant little place to stay overlooking the river and lake area. 
Geography 
Takeo is located in Southern Cambodia. It borders Kampong Speu to the North, Kandal to the East, Vietnam to the South and Kampot to the West. The area of the province is 3563 square kilometers (MAFF www.maff.gov.kh). The topography is variable, from the Bassac River floodplains to the east, through a broad belt of lowland paddy fields occupying much of the province, to smaller areas of lowland/ upland mosaic on parts of the Western and Southern borders. Takeo is classified as a rural province. 

Population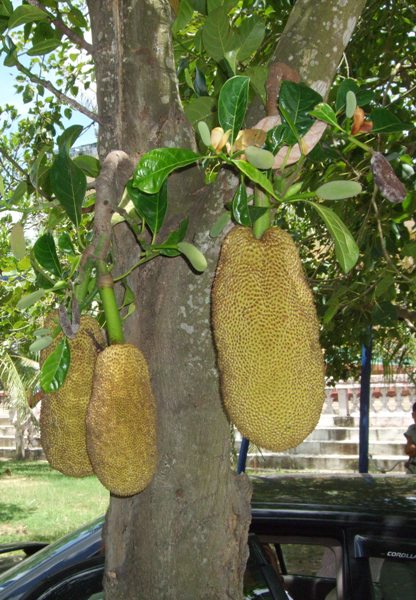 The current population in this province is about 924,758 people or 6.4% of the country's total population (14,363,519 person in Cambodia, 2007, provincial government data), with 445,000 male and 479,758 female. The population density is therefore about 100 people per square mile. 
Climate 
The average temperature is about 86 degrees Fahrenheit; the minimum temperature is about 61 degrees. December and January are the coolest months, whereas the hottest is April. General information about the provincial climate: 
♦  Cool season: November-March (72-82F) 
♦   Hot season: March-May (82-97F) 
♦   Rainy season: May-October (75-90F, with humidity up to 90%.)  
Economy 
Takeo's economy consists of agricultural farming, fishery, rice and fruit cropping. Rural households depend mainly on agriculture and its related sub-sectors. 
Tourist Attractions 
Tonle Bati 
Tonle Bati (Tonle means river) is a popular lake and picnic area that has bamboo shacks built out over the water that people can rent out for eating and whiling away the day. It's generally a weekend get-away spot, which means it's nice and quiet during the week. 

There are all kinds of food and drink stands selling everything you need for a picnic along the lake. Tonle Bati is a place of worship and features two ancient temples, Ta Promh and Yeay Peov, and a pagoda, Wat Tonle Bati, which was built in 1576. During dry season when water recedes, the place is a little quiet. But visitors do not come here for a floating bamboo shack, foods or drinks. Two ancient temples (Ta Prum and Yiey Pov) nearby offers them an insight to a pre-Angkorian architectres. It is also a place for worship to ancestors. 
Ta Prum Temple Was built in 12th century and at the beginning of 13th century (1181-1201) during the reign of the king, Jarman VII, dedicated to Brahmanism and Buddhism. The temple made of sandstone and laterite stone, surrounded by walls, and has protruding sculpture which describes celestials' nymph in the story of Brahmanism. In the temple, there are five compartments containing two statues of 13th century, which located in front of the figure of krud and facing to the East. Yiey Pov (Grandma Pov) Temple Located behind Tonle Ba Ti pagoda. Yiey Pov temple was built of sandstone in 12th century and facing the East. 
Phnom Chiso (Chiso Mountain) 
Located in Rovieng commune, Samrong district, about 62 kilometers south of Phnom Penh, Phnom Chiso is 13O-meter-high mountain. Phnom Chiso temple was built with sandstone and other stones in the early 11th century by King Suryavarman I (AD 1002-1050), who practiced Brahmanism. It is 60 meters long and 50 meters wide and sits atop a mountain.

The temple is surrounded by two galleries. The first gallery is 60 meters long on each side. The second, smaller gallery, is in the middle, where there is the main worship place with two doors and a wooden statue. There are beautiful sculptures on the lintel and the pillars. Phnom Chiso Pagoda was built in 1917, destroyed by war during the 1970s and rebuilt in 1979. Behind it is a hall called 
Thammasaphea, kof and a worship place. There is an ancient water tank made of concrete. People usually climb the staircase on the west side of the mountain, which has 390 steps and descend by the south side staircase, which has 408 steps. 
Phnom Da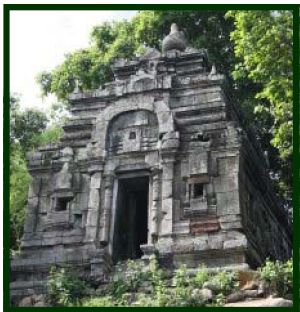 Phnom Da, about 102 km away from Phnom Penh is one of the ancient historical places in Cambodia. Earlier it was the old capital of Nor Kor Kouk Thlork of Kouk Thlork It is about 24 km away from the town of Takeo. Phnom Da temple was constructed on a small mountain in the 6th century by the King Rut Trak Varman. There are 5 man-made statues situated at the valley of the mountain. These statues represent the style of Phnom Da.
Angkor Borei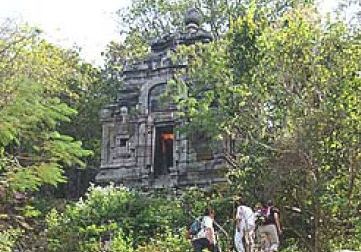 Located in the southern province of Takeo, Angkor Borei is one of the oldest sites in Cambodia with several ruins and archaeological digs. This picturesque town is divided into two halves by a gently flowing river and encircled by an ancient and gently crumbling wall. Cambodians occupied the land for at least 2500 years and has yielded artifacts dating from the Neolithic period, the Funan period (4th/5th century AD) and Chenla (8th century AD) as well as the later Angkorian period (9th-15th century AD.) There are no significant temple ruins at Angkor Borei but there is a very interesting little museum displaying artifacts from the area. 
Phnom Khleng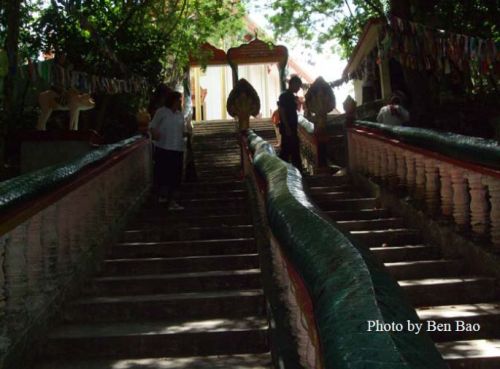 The Phnom Kleng, Takeo is considered among the famous tourist attractions in Takeo. A scenic province in Cambodia, Takeo is home to a number of natural and artificial places for sightseeing. There are several grand temples and natural and wildlife preserves in Takeo. There is plenty of vegetation at the Phnom Kleng. You can witness different kinds of birds, insects, reptiles, fishes, and mammals at this wildlife preserve. 
Phnom Kleng is a pagoda that was built within a local community. There are two Buddhist temples, one is at the foot of the hill. A steep stairway with serpent handrail, decorated with many statutes along the way leads to another temple atop. There are a gigantic Buddha status, a statute of Preah Ko Preah Keo and many others. A southeastern hill sidewalk leads to a sacred natural water fountain. Locals believe that drinking or washing face with this water would heal all kinds of diseases.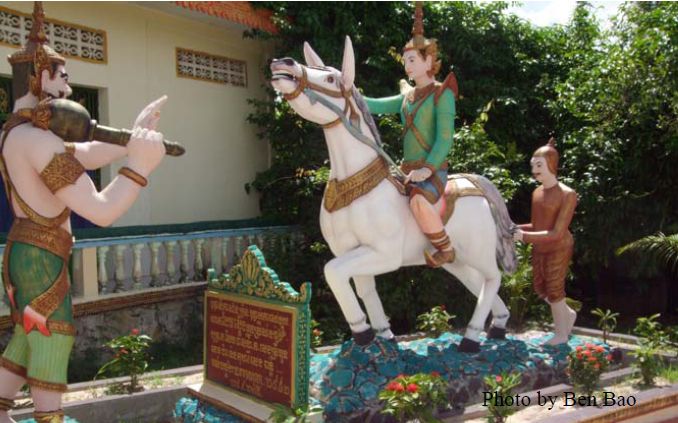 ---
Sources:
http://www.takeoprovince.com/
http://en.wikipedia.org/wiki/Takeo_Province